What do Schools do if Students or Teachers Test Positive?
The state Health Department has issued schools 19 pages of advice on what to do if someone tests positive for COVID-19. The guidelines include charts explaining when schools should shut down classrooms or entire school buildings, with several matrices to help schools decide if and when they should ask students to quarantine or shut down school buildings if someone tests positive for COVID-19.
Closure
The COVID-19 Regional Risk Matrix on page 3, (see below for link to entire document) is one tool that can inform the decision-making process for school districts when considering when remote learning might be indicated. Local circumstances should be considered when making decisions impacting specific school districts and schools. Many factors would need to be considered when deciding to close schools such as the distribution of cases within the school.
Closure is a local decision that should be made by school administrators in consultation with local public health. While it is not possible to account for every scenario that schools may encounter over the course of the school year, the following scenarios may help inform the decision for when schools should temporarily close.
The following chart is found on page 15 (see below for link to entire document).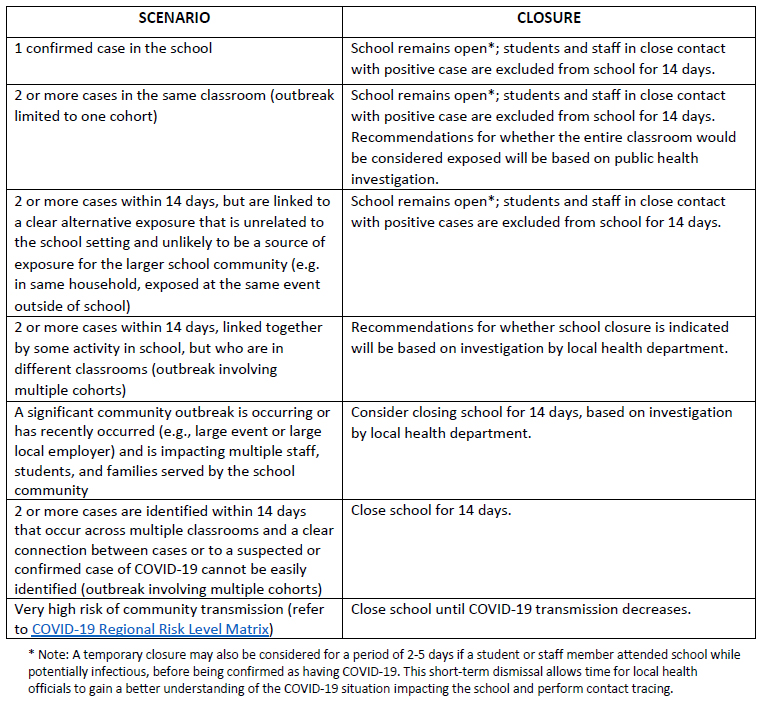 To read all the COVID-19 Public Health Recommendations for Local Health Departments for K-12 Schools from the NJ Department of Health, click here.